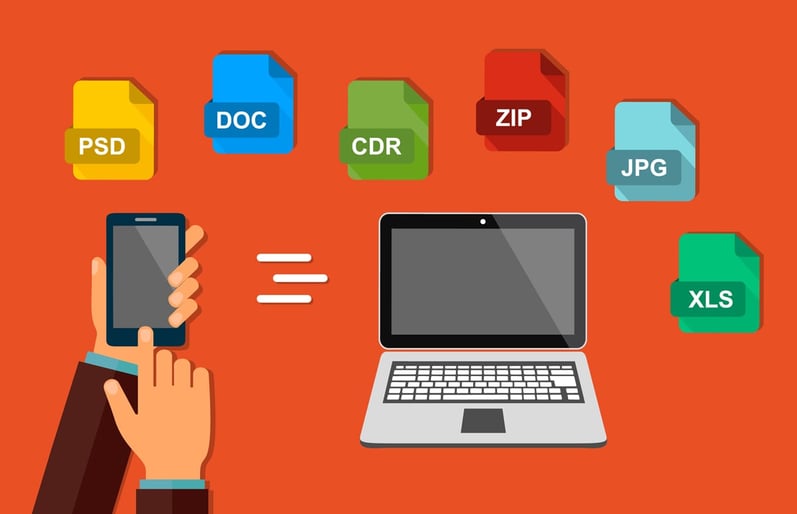 Translations are needed in a wide variety of contexts: operating instructions, other machine texts, brochures, websites, sales presentations... the list goes on. Inevitably, these texts will be produced in different file formats – and not all are equally suitable for translation. We explain what you need to look out for and how you can avoid additional costs.
First things first: in principle, all file formats can be translated. But some are better suited to it, while others make life more complicated when it comes to preparing the texts they contain for translation.
Which file formats does a translation agency need?
It doesn't really matter whether the texts to be translated are in Word, Excel, PowerPoint, InDesign, FrameMaker or Flare: a good translation agency will have no trouble handling most file formats. They should have these programs installed, and the project managers should know their way around them. Much more important for a smooth translation process is that the agency can access the text in an open file and in an editable form.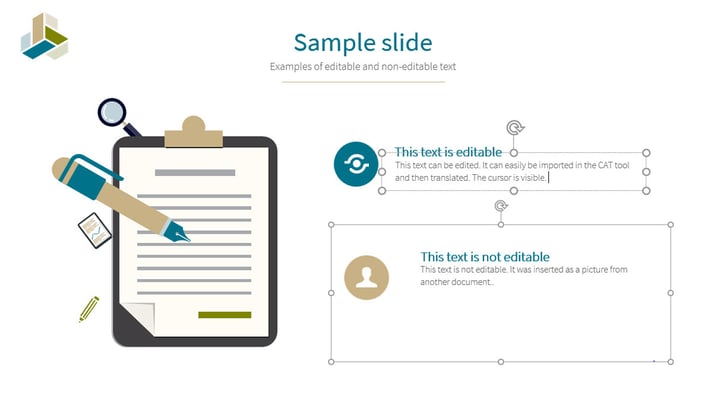 © MEINRAD
Why does the file format need to be editable?
If texts are editable, translating them is a relatively straightforward and stress-free process. To understand why, we need to explain a bit more about how translation agencies work. These days, translations are only produced in the file itself in exceptional circumstances: instead, agencies and translators work with software known as CAT tools (short for Computer-Assisted Translation, and not to be confused with machine translation!). It's only with this software that translation memories, term bases and potentially machine translation can be used in order to save clients money and produce the high-quality translations they expect as part of an efficient workflow. And CAT tools work by overwriting the source text and replacing it with the translation, resulting in a document in the same format as the source file.
What problems do non-editable files cause?
By implication, that means all files that can't be edited aren't suitable for translation in the CAT tool. The best example is PDF (Portable Document Format) files, where the translation agency first has to make the documents editable – usually by converting them to Word files. You can imagine how challenging this can be, especially if the texts are scanned PDF files which sometimes have handwritten comments too. Not only does converting the file usually result in a layout that works less well than in the original PDF file, but textual and numerical errors can also creep in. In themselves, PDFs aren't a problem. Agencies are used to working with them, and project managers will do what they have to do in order to prepare the files for translation. However, this preparation (plus the work involved to export the finished product once the translation is finished) slows the overall process down and can cost clients more money.
And PDFs are by no means the only challenging file format. Even files which at first glance look harmless, i.e. formats which are usually well suited for translation, often contain texts that can't be edited and so won't be picked up by the translation software. Common examples are Word files, PowerPoint presentations and InDesign documents, which often feature texts in graphics or as images copied or linked from other files. Project managers need to keep an eye out and check each file for these non-editable texts before the translation begins – and ideally they'll explain to you what happens next. If these texts need to be translated and they aren't in an "open" format (e.g. Photoshop or Illustrator), often the only solution is to manually type them out.
How can I keep things simple and save money?
There's a golden rule for getting translations quickly, without additional costs and without a complex post-translation process:
The original format, i.e. the format in which the text was produced, is the best format for the translation.
If you can, it's best to send that file to your translation agency. And it's even better if you check the document for any non-editable content beforehand, as this will avoid time-consuming questions and unnecessary costs resulting from complex preparation and post-translation processes.
But the opposite can be true as well. Clients frequently create more work for themselves and copy texts from the software they use, such as MadCap Flare, Illustrator and InDesign, into a Word file, thinking that they're doing the translation agency a favour and making things easier for them. But there's really no need! It's very rare that texts actually need to be manually copied from their original format. If in doubt, ask your agency which file formats they can handle – it's probably more than you think. And even if things are a bit more complicated, there's guaranteed to be a workaround of some kind, or there'll be Localization Engineers beavering away to make sure your files can be translated.
Translating websites
More than anywhere else, this is true for website content. There's almost never any need to manually copy the texts from the CMS and then copy the finished translation back into it – there's an easier way! The exported .html, .xml or .xliff files can be translated in the CAT tool and then imported into the CMS. So you avoid copy and paste errors, keep the formatting, and can rest assured that everything that needs to be translated will be translated.
Whether it's Word, FrameMaker, WordPress, MadCap Flare or whichever software and file formats you use, we'll make your life easy. Talk to us about your file formats, and we'll come up with a smooth, cost-effective translation process that works for you.
Main image: © Adobe Stock