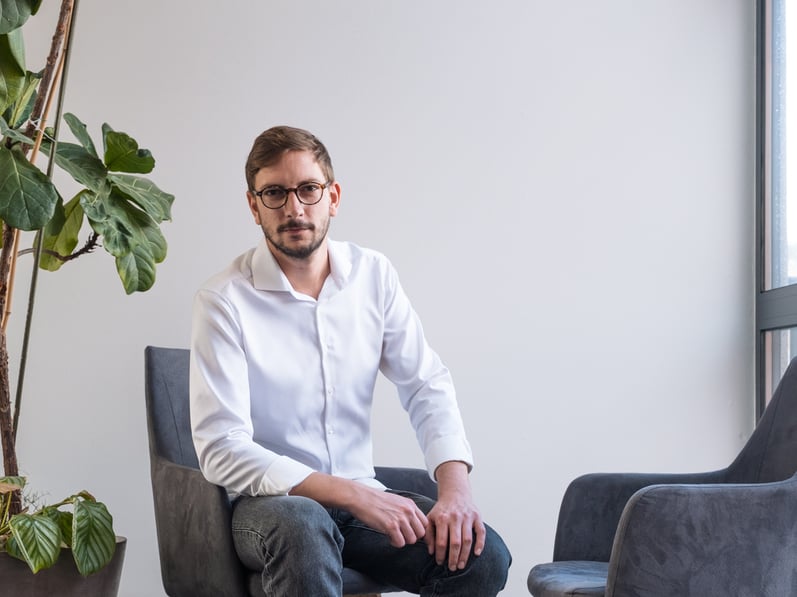 Only qualified and experienced translators can deliver accurate, high-quality translations that meet the demanding requirements of sectors such as medical technology and pharmaceuticals. Christian Waldmann, Vendor Relations Manager at MEINRAD, explains what makes a good life sciences translator, what he looks out for when selecting translators, which role machine translation plays in these sectors and which trends he has noticed.
What is VRM, and why is it important for a translation agency?
VRM stands for "Vendor Relations Management", i.e. how a translation agency deals with external service providers (freelancers) and partners. The work done by these external resources supplies the main product of translation agencies: translations. So alongside project management, they're at the heart of what we do. If this component is missing, or if they deliver "poor results", the whole construct of a translation agency can fall apart – so Vendor Management has a key role to play at MEINRAD.
Some translation agencies boast that they have a pool of thousands of service providers. MEINRAD follows a different strategy: we prefer quality over quantity. The only way to become familiar with our translators' strengths and weaknesses and to know which subject areas and texts they're suitable for – and which ones they should avoid – is to get to know them, keep in constant contact with them and regularly work with them.
What does a Vendor Manager's work involve?
The Vendor Manager is the bridge between the project managers/account managers and the external translators. They're familiar with the linguistic and specialist skills the translators have, and they have a knack for choosing suitable translators for specific clients. A crucial element in that is a complete and well-maintained database.
Even though agencies are well-prepared for most situations, there will always be times when clients need language combinations or specialist areas which aren't covered by the existing pool of translators. When that happens, the Vendor Manager's job is to find the right translator. There are lots of them, so there's a selection and onboarding process to separate the wheat from the chaff. A trained eye and in-depth knowledge of the language industry are needed in order to meet clients' demands. How do you identify the applicants who have the required specialist expertise plus the desired language pair? We look at their references and give them test translations to check that they meet the basic requirements.
But that isn't the whole story, as we follow that up with an interview and regular feedback.
Why is a personal interview so important

,

and once it's complete are the service providers then

"

part of the furniture

"

?
A personal interview is sometimes the best way to get to know a translator and what they're like. For example, the conversation tells me how communicative they are and how willing they are to talk to project managers and end clients – our clients often ask to speak directly to the translators in the event of queries or to give them training with new products, as this helps ensure even better translations.
But it can still take a while before translators become an established part of the pool of service providers and get in the project managers' good books. Project managers are of course more likely to go for the tried-and-trusted option, so part of a Vendor Manager's job is to "recommend" the new translators to the project managers to ensure a balanced division of projects and the optimum workload for the service providers. Nothing makes a Vendor Manager break out in a cold sweat quite like a combination of tight deadlines and a lack of personnel.
You've mentioned the various specialisms:

is it especially important to have good translators for the life sciences sector?
Good translators are vitally important for all sectors and subject areas. If you don't have any good translators, as a translation agency you can't deliver high-quality results and your clients almost certainly won't be happy. After all, the translation is the product provided by the agency: if that product is defective, the agency will gradually lose orders and clients because of the defective products it supplies, and may find it difficult to survive in the market. Of course, the life sciences sector poses specific challenges for translators. First and foremost, medicine and medical technology have a very low margin for error and require texts to be extremely user-friendly, as ultimately people's lives depend on them. And that results in high risks for businesses in these sectors if a mistake leads to personal injury.
What are the

requirements

that translators of life sciences texts need to meet?
In addition to the criteria stipulated by ISO 17100, life sciences translators should have both an affinity for language and a corresponding medical background. At MEINRAD, that's not optional – it's mandatory. Because speaking two languages is nowhere near enough to make someone a translator. If you don't have the appropriate qualifications, you simply won't be able to cope with the sea of specialist terminology and jargon for each sector.
Another challenge is the wide-ranging nature of the term "life sciences". It includes medical devices and instruments, which require familiarity with both medicine and technology, and pharmaceutical products, which require expertise in chemistry. So life sciences is even more interdisciplinary and intertwined with other specialist areas than other industries – and that can make it difficult to find suitable translators.
What makes a good life sciences translator, and which particular criteria do you look out for when choosing translators?
The main criteria include experience, training and qualifications. There are now countless forms of training to prepare language service providers for the life sciences sector, plus courses and programs to increase and complement their existing knowledge without any focus on language. They key thing is to stay up to date, as new products and technologies are constantly being researched and developed. Resting on your laurels is a sure-fire way to get left behind.
Linguistic expertise is one thing, but in-depth specialist knowledge of life sciences is much more important. The alarm bells go off in my head when I see an extremely long list of different specialisms: if you say you're an expert in electrical engineering, dentistry, tax law and whatever else in between, you're either a genius or your knowledge barely scratches the surface. I'm not saying it's impossible, just that as a Vendor Manager I'll be sceptical and I'll try to dig a bit deeper.
Does VRM for life sciences differ from VRM for technical translations?
No, not really. The main difference is the specialization of the service providers. I check their experience in the respective sectors and specific subject areas, as well as the references they provide and their previous clients.
Let's talk about the subject on everyone's lips:

machine

translation. What's your experience with MT in the life sciences sector? Is

it

used a lot?
I think many life sciences businesses are wary and sceptical of machine translation – as I said earlier, their translations are sensitive. But worries about data security are also a big part of it. Another factor is that many MT service providers don't allow their engines to be used for medical technology and other sensitive subject areas, though translation agencies can be given authorization, as we have at MEINRAD for DeepL because we're both ISO 18587 and ISO 13485 certified. In our experience, machine translation is definitely a viable option for the life sciences sector, especially for less sensitive types of texts – but only in conjunction with professional post-editing and potentially a subsequent review as well. For texts aimed directly at customers, we believe an ISO 17100 translation and review is the safest workflow.
What trends have you observed in life sciences?
We've seen a strong degree of resilience from the life sciences sector in the face of the crisis caused by the Covid-19 pandemic over the last three years. Large industrial businesses closed their doors during lockdown, while many areas of medicine and medical technology flourished. There's an ever-increasing need for high-quality life sciences translations, and quite a few translators have recognized that and begun to specialize in the sector.
For a long time, life sciences was off-limits for machine translation – but that's gradually starting to change. The MT output is getting more and more reliable, terminology can be integrated, and the final post-edited results speak for themselves. But it's important that you use a secure Pro version to ensure that your data don't end up freely available online. Artificial intelligence is everywhere, even if it's a nightmarish prospect for some people. If you know how to use this technology, I think you can really benefit from it – as a translator and as an agency. And if agencies want to become established in the life sciences sector, my view is that ISO 13485 certification is indispensable. It guarantees full traceability of every step in the production chain, including the creation of the translation itself. So life sciences businesses and their customers can operate as safely as possible and have full transparency.
Main image © Klara Miller