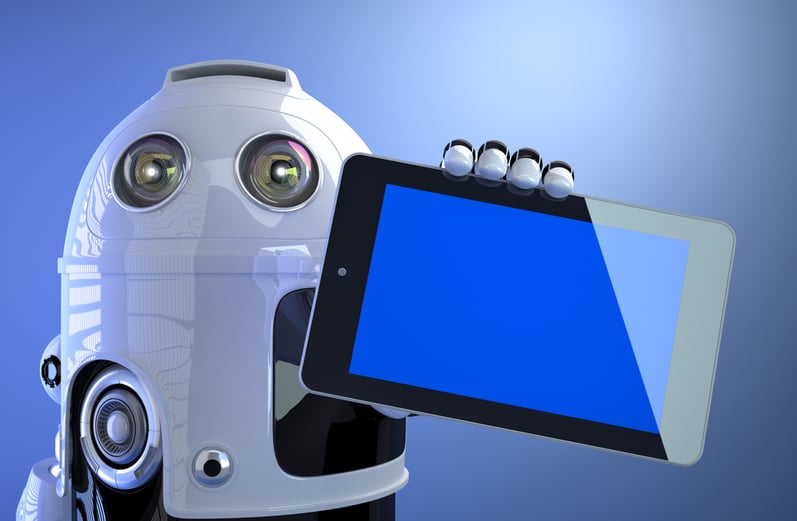 When businesses have the internal resources for post-editing, they often want to go it alone with machine translation (MT). But which services to use? Free engines are less than ideal, given the problems with data privacy, the quality of the output and the practicalities, so this is where self-service portals come into play. They make it easy to get all documentation machine translated, with no risks and no long-term commitments.
Lots of businesses consider using machine translation, only to rule out free services because they're not secure enough or it's too fiddly to integrate the output into their systems. And Pro versions are often hampered by the lack of access to a CAT tool, which would help these businesses make the most of the machine translation and post-editing process. Luckily, there's a solution to this dilemma: a machine translation self-service portal that allows as many staff as necessary to benefit from state-of-the-art MT software and, if required, to post-edit the texts in the web-based interface itself.
How it works
The translation agency sets up the self-service portal and tailors it to the client's individual needs. The client's staff can then log in and upload the source text – and the portal can work with various file formats, including:
FrameMaker (MIF files)
Schema (XML files)
InDesign (IDML files)
Microsoft Word and Excel (docx. files, xls. files)
And many more
The desired language(s) and service type can then be selected. There are two options:
Option 1: Machine translation only
Easy as 1, 2, 3! Use this option if you want the uploaded text to be machine translated and nothing else. Depending on how large the file is, you'll get it back in its original format within minutes via a download link. The translation memory (TM) and term base entries are built into the translation, but there's no post-editing – so what you get is the text exactly as translated by the MT engine. Generally, this option is useful if you just want to get a rough idea of what an internal memo is saying or if you need an overview of a document. But it's not the right choice if a professional, high-quality translation is required. For this reason, texts produced with this option aren't saved in the translation memory and aren't used to train the MT engine. Nonetheless, if you need to understand something quickly, it can be an absolute godsend!
Option 2: Machine translation + post-editing + output saved in TM + MT trained
This option is ideal for helping in-house translators or technical editors produce texts in other languages and for increasing their productivity. After the file has been machine translated, it is sent to a human post-editor, who can then fine-tune the MT output in a user-friendly web interface, with access to the translation memory and the term base to help them. Once they're finished, the in-house "client" receives an e-mail with a link to download the finished file.
The post-edited texts are then saved in the master translation memory, and they're also used to train the MT engine so that it can produce better and better translations.
Pros and cons of a self-service portal
As the translation agency's resources are being used, no investment costs are required. And there aren't any maintenance or update costs either, because agencies (should) always work with the latest technology. There are other benefits too:
Intuitive and user-friendly
Permanent access to the latest, and extensively tested, machine translation software
Machine translation software can be trained
Translation memory and term base entries are built into the translations
The text comes back in its original format (i.e. the formatting is retained)
Post-editing can be carried out in the web-based interface
Post-edited texts can be saved in the translation memory
Data are secure
Flexibility: choose between option 1 and option 2, depending on what's needed each time
Depending on your situation, it may be a disadvantage that a file always has to be uploaded for translation – unlike the free version of DeepL, for example, where you simply copy the text into a field. But on the other hand, this is the only way to retain the formatting of the source text. Ultimately the pros and cons of a self-service portal will depend on how you plan to use your translations.
The technical details in the background
Either way, whether you choose option 1 or option 2, the resources you use are 100% the responsibility of the translation agency. They give you a powerful combination of a state-of-the-art CAT tool and a trained machine translation engine, and their automated processes allow you to customize the workflow launched at the start of each project. You can also specify which post-editor the MT output is sent to, and who receives the finished files.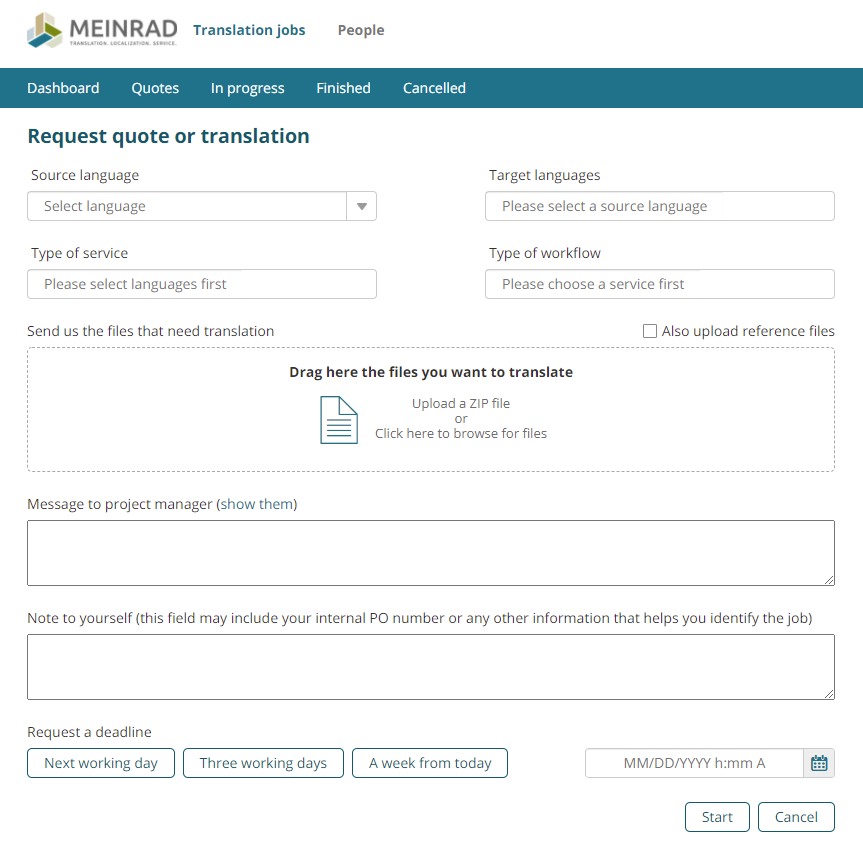 The MEINRAD machine translation service portal
The world of machine translation never stands still, which makes it extremely important that your translation agency continuously tests new MT engines to find out which providers deliver the best results. Remember that some engines are better suited to certain types of texts, and that a high-quality engine will allow entries from the translation memory and the term base (if available) to be built into the translation – so if your agency is simply resting on its laurels with the engine it's familiar with, regardless of your needs, the chances are you won't be getting the most from this technology.
You can customize the settings in the portal, for example so that Person A and Person B only have access to option 1, while Person C and Person D have access to options 1 and 2. Each user has their own login details, and you can also see monthly evaluations by language, in-house "client" or volume.
If you'd like to find out more about our machine translation self-service portal, don't be shy about asking questions! Arrange a date and time for a demo, and we'll show you how machine translation can make your life easier.
Main image: © Storyblocks