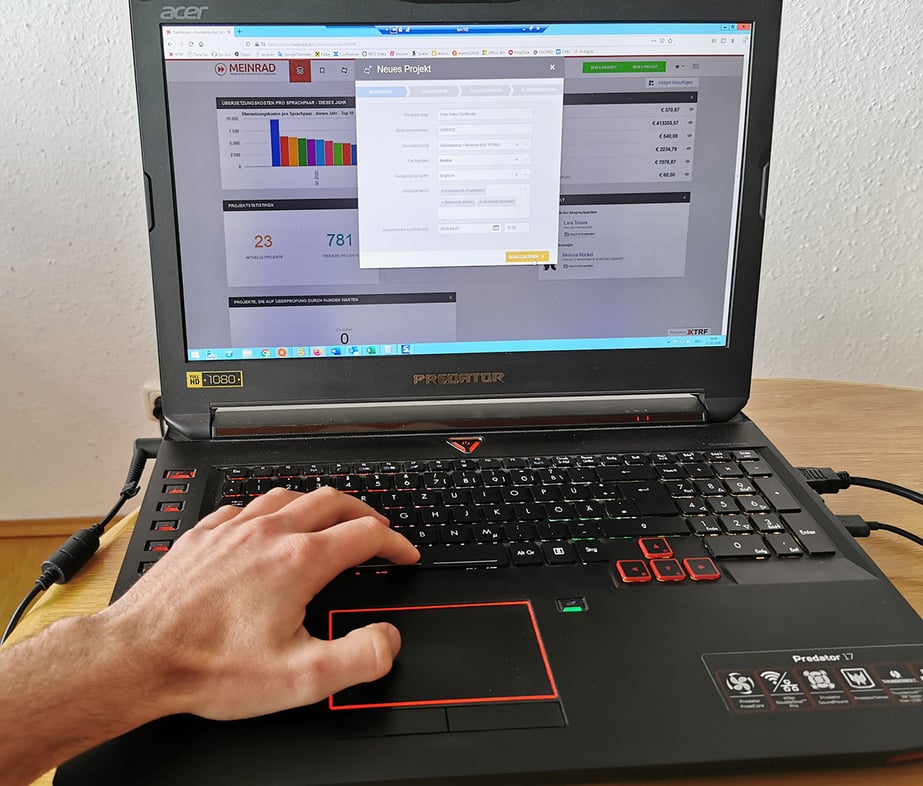 You can do a lot with the MEINRAD customer portal: communicate quickly, save time, transfer files securely, request quotes, launch projects, view ongoing and completed translation projects, get an overview of your costs and savings, and much more. And because it's all online, it's available wherever and whenever you need it.
MEINRAD's services are just a few clicks away: our customer portal gives you access to translation projects and everything else you need. In effect, you become your own Project Manager. The customer portal makes collaboration easy and offers a number of key benefits in addition to saving time and resources.
Customers can:
use the clear, intuitive interface

contact the relevant Project Manager directly

request

q

uotes

without any hassle

launch translation projects

view the status of projects

review invoices and monitor costs

edit address information in a matter of moments

transfer data securely

create reports

and overviews

of

KPIs

(Key Performance Indicators)

upload source files and download finished files
Let's
look at these benefits in a bit more detail:
Access important information whenever you need it
The customer portal offers transparency throughout the process, whether it's the initial request for a quote, the translation itself or the invoice. It makes managing translation projects a piece of cake: all the necessary information (such as deadline, language pairs and costs) is displayed for all projects, whether they're in progress or completed.
Save time and request quotes with a few clicks
The portal makes it easy to request quotes. Simply choose the service you need, the language pair, the specialist field and the deadline in the form, upload the files and any reference materials using the encrypted system, and it will all be sent to the relevant Project Manager. Once the Project Manager sends you the quote, you can use the link or go via the portal to accept or reject the quote. And the quotes overview lists all the quotes you have requested and your total costs. Of course not every project requires a quote: if that's the case, you can go straight ahead and launch your projects in the portal too.
Download all your translations
As soon as the translations have been delivered, you get a notification that the files can be downloaded from the portal. They are available for at least 90 days. You can also download your source files from the portal – this has sometimes proved to be a life-saver when source files have accidentally been overwritten or deleted by customers.
Transfer data securely
The customer portal meets all security standards. Unlike when you send files by e-mail, transferring files over the portal is fully secure. And large files aren't a problem either: the system allows files of up to 1 GB to be transferred.
Give everyone in your team an overview
The portal also makes working as a team considerably easier. If all team members are registered in the portal, the whole team can see the quotes your business has requested and your ongoing projects. So if one of your colleagues is away on holiday, for example, the others can see the projects they've launched and can simply download the finished translations without having to send additional e-mails back and forth. Access authorizations for individual users can also be defined to suit your needs.
Contact us directly
Even the best digital tool is no substitute for personal contact, so the dashboard lists your contacts at MEINRAD. Whatever questions you may have about your translation projects, you can speak directly to the relevant Project Manager.
Customize the information you see and produce reports
You can use widgets in the customer portal to make sure you see exactly the information you need. For example, you can choose to view statistics for the translations you have ordered arranged by language. This means you have an overview of what matters to you at all times and allows you to create reports on costs, translation volumes and savings achieved by using the CAT tool. The reports can be downloaded as a CSV file and used if you need to put together an internal report for your company.
Manage your invoices the smart way
If you suddenly can't find that invoice you need, don't worry: in the portal you'll find all your paid and unpaid invoices, which can be opened and downloaded as PDFs.
Sound

like something you might be
interested in?
If you want to save time and resources and manage all your translation projects in one place, we recommend our customer portal. You may already be registered as a customer in our portal but aren't using it yet – if so, you can sign in here.
If you haven't yet registered, contact your MEINRAD Project Manager. They'll give you access and will explain how its main features work, so that in future you can launch your translation jobs and monitor their progress with a minimum of fuss.
Main image: © Mostögl