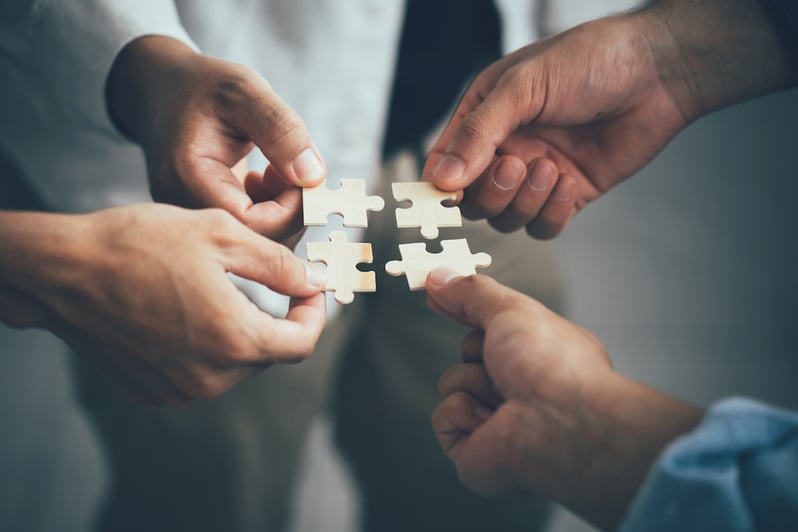 When choosing a translation agency, many people use test translations to decide which agency to work with. But if you have large amounts of text to be translated and need additional services and support managing your projects, you should also evaluate an agency's technical expertise and the professionalism of their working methods – in the long run it will save you money and make your life easier.
Although successful translations are primarily a question of language and language management, there's more to it than that. So while it's a good idea to request test translations before starting to work with a translation agency, you should put them to the test in other ways too. Other factors are at least as important as high-quality texts when it comes to establishing productive, long-term relationships and going beyond translations to help you and your business work better every day. It's especially important that translation agencies meet the following criteria:
Use of state-of-the-art technology (to save time and money)
Efficient, well-structured workflows
Certifications
Privacy and IT
Help with reporting by supplying KPIs
Ongoing evaluation/strengthening of working relationship through regular meetings
Option for framework agreements
All-round services to help you work better every day
1. State-of-the-art technology in the translation process
State-of-the-art technology has a crucial role to play in translations. Whether it's translation memory systems, machine translation engines or automated workflows, an efficient, cost-effective translation process is almost impossible without advanced technology. To make sure you save time and money, you should choose a translation agency well-versed in the latest technology – but the agency should also keep up to date with the latest developments and the new opportunities they create. One issue that clients with large translation volumes are particularly interested in is interfaces. Manual copying and pasting is both time-consuming and liable to cause mistakes, so check that the agency allows you to integrate your CMS or your code repository into their systems. They should have the flexibility to adapt to your software and workflows.
2. Well-structured workflows
You could simply get started by launching a big project involving 30 different languages – but we don't recommend doing that, as you should take a close look to the agency's workflows first. Good planning is half the battle, but it shouldn't be too complex or long-winded. An agency familiar with lean, agile processes will know the quickest and most effective way to prepare and deliver translation projects.
3. Certifications
Another issue to bear in mind when choosing an agency is its certifications. The two main certifications in the translation industry, ISO 17100 and ISO 9001, ensure that the translations produced and the project management offered by an agency meet the highest standards and leave nothing to chance at any stage in the process. For medical translations, ISO 13485 is the relevant standard: if the agency has this certification, your supplier audit will be a lot less time-consuming (find out more about how certification benefits you). And ISO 18587 is the standard for machine translation and post-editing. It defines the requirements for human post-editing of machine translation outputs, including the qualifications of post-editors. But make sure the agency actually has these certifications: "We work in accordance with ISO standards" is not the same as "ISO certified".
4. Privacy and IT
Privacy is every bit as important as high-quality translations. You should pay very close attention to how the translation agency handles your documents and your data, and investigate how data and texts are received and delivered. E-mails may be useful, but it's not a good idea to use them to send sensitive (or large) files. And if you're thinking of using machine translation, privacy is an even more important issue to be aware of: the agency should only work with machine translation tools that ensure your data are secure. Find out more about machine translation, and check out our E-book:
5. Help with reporting
Efficient workflows and cost-effective translations aren't a coincidence. A translation agency should have the commercial expertise that helps you with your reporting, which includes creating a clear vision, defining targets and KPIs, establishing reporting processes and monitoring progress. You can ask the agency to deliver regular figures to be used in your reports, and they may offer a dashboard for real-time insights into money saved and translation management activities.
6. Regular meetings
Your translation partner should make time to talk to you. So you should find out whether they're prepared to have regular meetings – written communication does the job in many cases, but it's important to discuss targets, progress, to-dos, feedback etc. on a regular basis in person. These meetings will probably be more frequent in the early stages of your working relationship than later on.
7. Potential framework agreements
At first glance it might be tempting to go for a "no-strings relationship" without any mutual commitments, but real-world experience shows that this can cause problems. If there's nothing stipulated in writing about who's supposed to do what and how, everybody involved will be in the dark. In all cases, a framework agreement that offers added value for both parties is the best way to avoid unwanted surprises and ensure full transparency, so we recommend checking whether the agency offers these agreements.
8. All-round services
If you only have translation projects on an occasional basis, this point is less important. But if you regularly need translations into lots of different languages, with various file formats and varying service levels, it can make a big difference. It's worth finding a translation agency that serves as a one-stop shop for everything you need, and ideally one that gives you genuine added value and support with your everyday work. Talk to the agency to find out which parts of the process they can handle for you – even if you don't always need all of these services every time, it's good to know that you can fall back on them when needed. Ultimately, you're looking for more than just a translation agency: you're looking for a partner that's on the same page as you and can help your business work more effectively every day.
Main image: © Adobe Stock