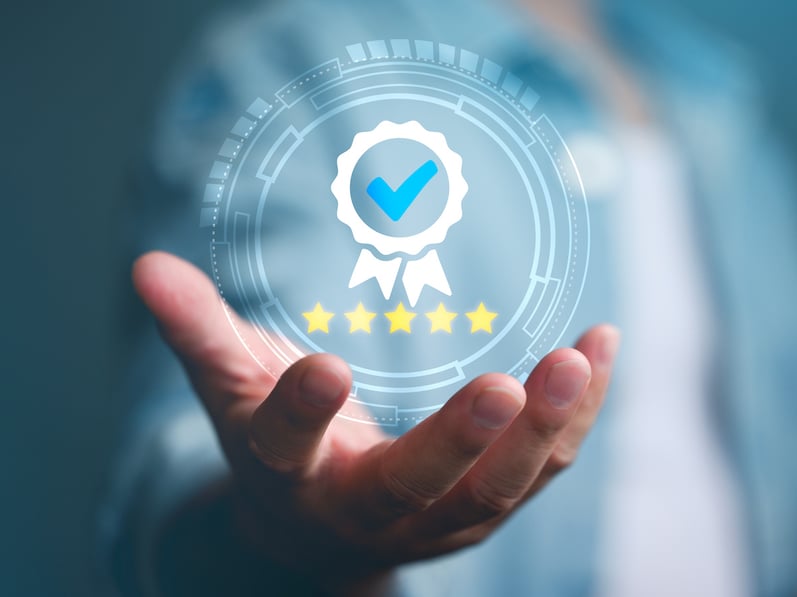 In the medical sector, safety is paramount. That's no surprise, as it involves working with devices which have a direct influence on the health of users and patients. Manufacturers are bound by precise regulations to ensure products and operations are as safe as possible, in order to minimize the risk of harm. That means the highest possible quality standards are required across the supply chain – and that includes translations. Working with an ISO 13485 certified translation partner ensures medical manufacturers are on the safe side.
Medical devices are sensitive: they're used on people, so one mistake can put the user and/or patient in danger. Every effort must be made to keep the risk of harm as low as possible, and as a result there is a large number of stringent regulations for the medical industry to follow before devices can even be launched onto the market. Two of these are the MDR and ISO 13485.
Quality and safety come first
So it's little wonder that life sciences businesses have dedicated staff, or in some cases entire departments, responsible for implementing, complying with and monitoring these quality and risk management processes. If damage occurs, the manufacturer must show that they have fulfilled their obligation to provide a top-quality device. This has an effect across the supply chain, including all the workflows at the company itself and the services they purchase, which usually includes translations. The MDR treats translations as part of the medical device, as they influence the quality of the device. They pose a potential risk, so they need to be factored in to the quality and risk management process and evaluated in the same way. The quality requirements need to be monitored throughout the production cycle, from supply of materials to delivery of the end product – and when working with a translation agency, that means from the moment the source texts are sent through to delivery of the translation.
Better safe than sorry with an ISO 13485 certified translation agency
When looking for a translation partner, it can be hard for manufacturers to choose from the many agencies out there. But we recommend working with an ISO 13485 certified translation agency, as this will both minimize the risk for you and reduce your workload when it comes to evaluating suppliers. An ISO 13485 certified translation agency must have a quality management system in place in order to get certification, and it is regularly audited by an accreditation body. That means the agency follows specific rules when implementing, monitoring and documenting every step in the translation process, so that if a risk arises, or if something goes wrong, it's possible to trace why and when it happened and who caused it. The accreditation body examines all these processes to ensure the services provided meet the ultra-high standards.
Documenting and tracing every step in the process
An ISO 13485 certified translation partner gives you the peace of mind that they'll do everything they possibly can to protect your devices and your customers. Your texts are in safe hands, the risk for patients and users is minimized, and you don't have to produce reams of documentation about the processes at the agency – they'll do that themselves. So full traceability is guaranteed.
State-of-the-art tools and specialist translators
The professional workflows and professional working environment found in good translation agencies are crucial for accurate, high-quality translations. Using a CAT tool such as memoQ doesn't just make life easier for translators and ensure consistent translations that feature the desired terminology – it also plays a major role in traceability, as each translated sentence is stored along with metadata such as the translator, the time and the document. And speaking of translators: ISO 13485 certified agencies make every effort to only use specialist translators for the respective subject matter for their projects, as that's the only way to ensure high-quality results in medical translations.
Privacy and confidentiality in medical translations
Privacy is another important aspect in a professional working environment. Your data are sensitive, and very often your translations will involve documentation for devices which aren't yet on the market, so confidentiality is essential. Secure, encrypted tools and well-trained staff at the translation agency – who will have signed NDAs as part of the agency's ISO 13485 certification – make sure no unauthorized parties have access to your data.
What happens if things go wrong? Liability immunity in medical translations
Even when strict regulations apply and processes are clearly defined, no one is immune from making a mistake every now and then. What matters is the response: mistakes must be rectified and analysed in order to learn from them and ensure they don't happen again. The affected party (the manufacturer or the translation agency) needs to optimize their quality management system and take the necessary steps.
Each manufacturer is liable for their own products: you're liable for the products you supply, and the translation agency is liable for the translations they deliver to you. If an incident occurs with a medical device, all parties involved will investigate to establish the potential cause of the problem. Clear and transparent communication is extremely important in order to work together and get to the root of the issue. And of course the financial aspect shouldn't be forgotten, so it's a good idea to make sure your translation agency is insured in the event of damage caused by a translation error, to give you additional protection.
The many benefits of a professional translation agency
This liability immunity that a translation agency can offer is another clear and crucial benefit for you as a client. If you work directly with freelance translators, very few of them will have insurance in the event that something goes seriously wrong, and they definitely won't be insured for major damage. So if you're a medical device manufacturer, or any business in the life sciences sector, you should think carefully about who you work with. An ISO 13485 certified translation partner will reduce the risks for your business and make your life easier.
Main image © Adobe Stock