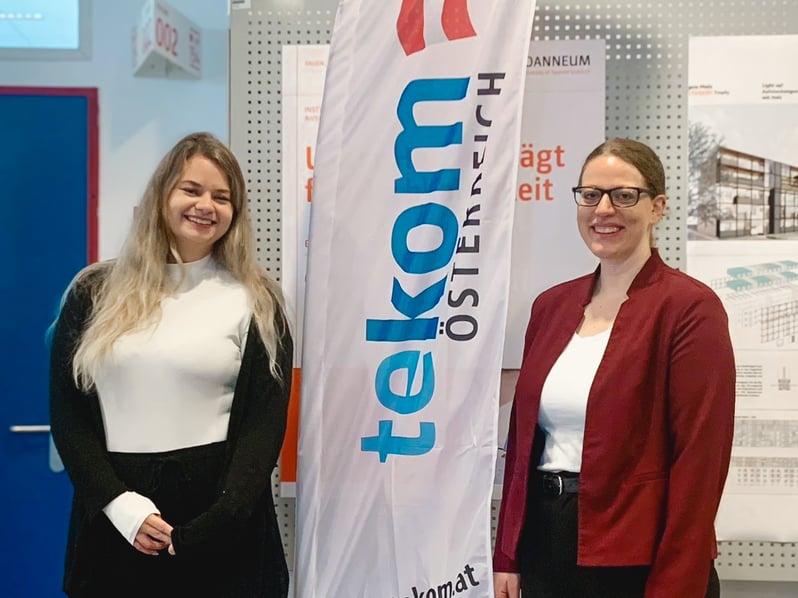 Many companies in the aviation and defence sector are familiar with the S1000D standard, as their technical documentation needs to comply with it. In October, Tekom Österreich held an event at the Joanneum University of Applied Sciences in Graz all about this standard – and MEINRAD was there! Why did we, a translation agency, go along to an event for technical editors? In simple terms, Because we think it's vital for us to understand the challenges our clients face in their sectors.
The Tekom event was called "S1000D – the unknown standard" and was scheduled for an entire Friday. Carina and Luisa, two of our Project Managers, were very excited to find out more as they made their way to the Joanneum, where they were in the audience for four talks on the S1000D standard. Even though MEINRAD doesn't produce technical documentation and the standard doesn't directly apply to translations, we thought it was important as a Tekom member to be at this event to find out more about it and the challenges it poses for our clients. Some of these clients are in the aviation and defence sector, which means we translate documentation produced in accordance with this standard. So it's essential for us to understand the S1000D requirements in order to advise and support our clients and to give our translators appropriate training.
What is the S1000D standard?
We've mentioned S1000D enough times, so what's it all about exactly? S1000D is an international standard for the production and provision of technical documentation in the aviation and defence sector. It's published in Europe by the ASD (AeroSpace and Defence Industries Association of Europe) and in America by the AIA (Aerospace Industries Association) and A4A (Airlines for America). As S1000D is highly complex, it's best suited for large-scale documentation projects spanning several hundred to a thousand pages rather than for short texts.Breaking down the content into multiple small data modules allows multiple technical editors to work on the documentation at the same time. And if any information in one of these data modules changes, it is automatically updated everywhere else.
S1000D essentially provides the framework for documentation projects in the aviation and defence sector, then Business Rules enable changes for specific clients and projects to be made.
Aviation and defence are the main sectors where S1000D applies, but it's also used in the renewable energy sector, the rail industry and ship construction – and it's becoming more and more common.
Unfortunately, switching from documentation written to meet a different standard to S1000D-compliant documentation can be a complicated process: although the content itself shouldn't pose any problems as it remains the same, If the old structure is very different from how S1000D-compliant documentation needs to be structured, it's so expensive and time-consuming to make all the changes that it's better to rewrite the documentation in its entirety.
Plus, You can download the S1000D standard free of charge here!
Our impressions of the event
Our work as a translation agency involves technical documentation, so it was a fascinating event where we picked up lots of useful information that will help us in future. The event schedule included four very different talks covering a wide variety of issues, but it was clear that each new talk followed on from the content of the previous one – an effective way to build on the newly acquired knowledge of S1000D. There was also plenty of time for networking, as Tekom Österreich scheduled regular coffee breaks to give event participants the opportunity to share their ideas about what they had just heard (and more besides).
We leaned a lot from the event, and we're already looking forward to attending future Tekom events so that we can broaden our knowledge even further!
Main image © MEINRAD