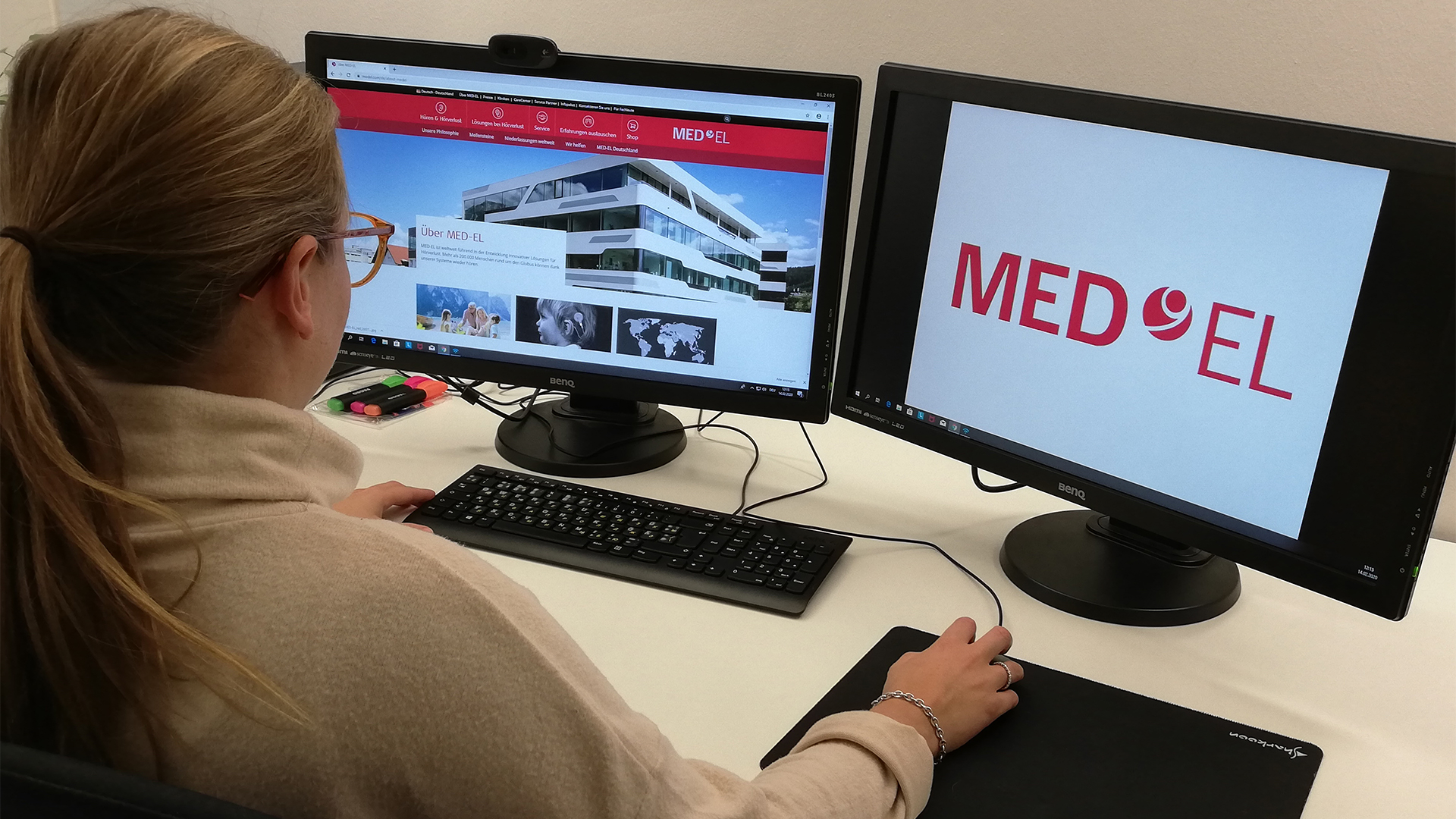 More than 200,000 people can hear again thanks to MED-EL's hearing loss solutions – that's 200,000 people belonging to various nationalities and cultures, and speaking different languages! MEINRAD has been the medical technology company's translation partner since 2013, helping to supply all these people with the information they need.
Doris Wimmer, Marketing Manager at MED-EL, spoke to us to explain how MEINRAD now feels much more like an "internal department" than an external partner for MED-EL.
MEINRAD as a translation partner for MED-EL
MED-EL is a global leader in the development of innovative hearing loss solutions. Based in Innsbruck, the company employs over 2,000 people in more than 100 countries and supplies over 200,000 hearing loss sufferers with implants and other technology to help them hear again.
"Communication with our customers around the world obviously needs to be in their native language, so translations are extremely important for us", explains Wimmer.
In order to use MED-EL's products, some of which feature complex and intricate technology, the company makes various information available to their end customers in the form of product inserts, websites, patient brochures and more. This all needs to be translated into lots of languages – and that's where their partner MEINRAD comes in, translating MED-EL's informational material into over 40 different languages.
The challenges of translating in the medical technology sector
MED-EL had previously worked with other language service providers, but these LSPs hadn't always been able to meet the stringent requirements for a translation partner in the medical technology sector. And these regulations are just one example of the particular challenges faced by providers of technology like this. Errors in texts (or their translations) can have serious legal consequences, so it's crucial to have a translation partner with expertise in the (medical) technology sector.
This primarily affects the Labelling department, though Marketing also has certain issues to bear in mind. Wimmer explains: "Marketing isn't regulated quite as strictly – that's more of an issue for our colleagues in the Labelling department. But it's still very important to us in Marketing that our texts are consistent and coherent. So we set great store by always using the same translator for each language, as this ensures that our information will be communicated in the same style every time, whether on our website or in one of our brochures." When MED-EL worked with other translation partners in the past, they often switched translators without notice, which had a direct impact on the quality of the translation.
It's also important not to shy away from asking questions if there are any uncertainties. "Our products are complicated, and when we do translations in-house, we frequently have questions for our colleagues. So logically, an external partner must have questions too! If you're reluctant to ask questions, ultimately that's going to affect the quality of the translation."
Finding a reliable translation partner: easier said than done
In 2013 MED-EL was looking for a new translation partner. With prompt communication, error-free translations and consistency and transparency in terms of the translators used as the key requirements, ultimately the aim was to find a reliable partner who could
translate the required volumes,
handle all languages MED-EL's in-house translation department couldn't handle, and
meet their quality requirements.
As a trained translator, Wimmer knows what distinguishes a good translation service provider from a bad one. But finding the right partner is easier said than done: "The problem is, although translation agencies are ten a penny, lots of them promise what they can't deliver. So it's extremely hard to find the right partner."
How MEINRAD won over MED-EL
MED-EL and MEINRAD met for the first time at the annual tekom conference in 2013. "I spoke to MEINRAD CEO Meinrad Reiterer, and I asked him a lot of detailed questions", says Wimmer. "Because previous experience has shown how important it is that a translation agency uses the same translator for every project, rather than assigning different projects to different translators without telling us".
And it was exactly that factor which ultimately won over the MED-EL Marketing Manager: "MEINRAD goes the extra mile by giving us the information we need about the translators who work for us. They confirm with their signature which translator has worked on each job our Marketing department sends them – you don't get that from many other translation agencies!" So if there are any stylistic problems or inconsistencies, complaints can be lodged or money can be claimed back. "This transparency was a decisive factor for us, and it's still crucial now. The MEINRAD team don't keep any secrets about who works on their translations, and we really value their open and honest communication."
Another point in MEINRAD's favour was our experience with both technical and marketing texts. There are major differences in the style and structure of these texts, and for MED-EL it was important to have translators who are aware of these differences and have the relevant experience.
The baptism of fire in early 2014
After a few smaller projects beginning in November 2013, the real acid test for MEINRAD and MED-EL's partnership came in early 2014: a new product was launched, and lots of material had to be translated into lots of languages for a conference. It was a big project with a tight deadline – and as delayed delivery or problems with the texts would have led to serious difficulties for MED-EL, there was no margin for error! But MEINRAD successfully delivered the project, and that laid the foundations for a partnership that continues to this day.
From translating for one department to translating for the whole company
Initially, MEINRAD only produced translations for MED-EL's Marketing department, including texts used on their website, on social media and in printed publications.
"But as we were working together so successfully, we recommended MEINRAD to our colleagues in other departments", explains Wimmer.
So far, MEINRAD has translated texts for MED-EL into over 40 languages. In addition to languages like Spanish and French, this has included less common languages like Farsi and Hebrew and even more exotic African and Indian languages (one particular project involved translating into nine different Indian languages, including Punjabi, Tamil, Kannada and Hindi).
No more "lost in translation"
How does a typical translation project between MEINRAD and MED-EL work? Lara Tosoni and Melissa Moser are the two main Project Managers for MED-EL, so they're the first port of all when there's a new translation project. And Lukas Reiterer is the first contact person in case of technical issues.
Wimmer explains: "What makes MEINRAD stand out is their expert project management. We have assigned contact persons, and we always get immediate replies whenever we contact them. If we need things done quickly, they get them done quickly."
If required, MED-EL can also contact the translators directly. "If it's a translation into Arabic, for example, I can't answer those questions myself. So it's a great relief for us to know that we can contact the translator directly. That way we don't have to worry about things being lost in translation."
A long and successful partnership
After working together for seven years, MEINRAD knows MED-EL and what it needs extremely well – and that in turn makes the partnership even stronger.


"We're delighted with how successful our partnership has been. We've even outsourced some projects to MEINRAD, because they know us so well", says Wimmer. "We always say that MEINRAD is like another department of MED-EL rather than an external partner!"
But it's not just our language services that make MEINRAD so valuable for MED-EL: we also provide technical support if problems arise. Find out how we work together to establish common workflows that save MED-EL time and energy in part two of our look at MEINRAD's partnership with the medical technology company.
We would like to thank Doris Wimmer for taking the time to talk to us and for our partnership so far. Here's to even more successful projects with MED-EL in future!
Main image: © MEINRAD